Many things work beautifully in pairs. When it comes to your blog, you have an ideal and inseparable pair. It is none other than Google AdSense. What is it that makes Google AdSense the ultimate pair to your blog?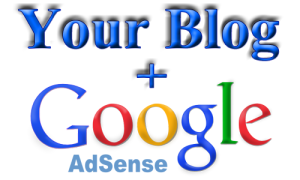 If your goal is to monetize your blog in the future, you have to pair with Google AdSense. It is the advertising program that is internet based and web based. In other words it is the inseparable pair to your blog. Google AdSense issues the ad, your blog posts the ad and there you have it, the inseparable pair.
Applying to Google Is Easy
An application to Google AdSense is relatively easy. You just sign up on the space provided and wait for approval via email. Once you get approved you are on your way to be a partner of Google AdSense. There are no committees to wait to approve your application. It is a very simple sign up, wait for approval, get approved and get to start.
Choosing and Posting Ads Is Convenient
Your approval entitles you to choose from a list of advertisements that you can potentially post in your blog. The source of these ads is Ad works, the outfit that handles the advertisement program of AdSense. You choose first the ad, then you post it. It is designed for your convenience.
Business Procedures are Simple
With a very simple and straightforward business procedure, you don't waste your time, you don't spend extras and you can focus on your blog as well. The procedures are simple, updated and automated. After going through the initial step, you now start to be one of the advertisers of Google AdSense.
Income Potential Is Beyond You
When you post an ad, you expect some income as well. There is an income potential become you, in Google AdSense. The moment a visitor in your blog clicks on an ad, Google AdSense, usually pays you have of what the advertiser pays and they keep the other half. It is not a bad arrangement actually. Your income potential actually depends on the clicks per visit. A click can amount to a few cents or a few dollars, depending on the advertisement. With billions of people roaming the internet, the income potential is beyond your imagination.
Google AdSense and your blog is the inseparable pair. It is a win-win situation for both you and Google AdSense. Keep your blog in tip-top shape by having in updated and professionally run so that as you start to post your ads, your visitors will notice and then start the clicks. The more click the better of the inseparable pair.
---
This guest post is written by Jimmy.He promotes link building tools like ultimate demon which is one of the best available link building tools on internet. He also shares Kaspersky key for 1 year for free in the giveaways in Bnsofts[.]com.