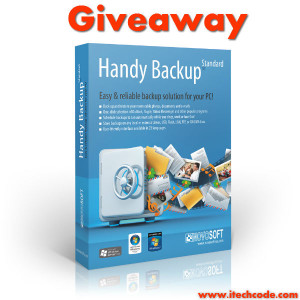 This is going to be first giveaway on iTechCode. We have another giveaway on the way. In this, we are giving away premium software (Handy Backup Home Standard). After that SEOPressor will be offer on the next giveaway. Isn't it amazing!
Not only this, we will also start the third giveaway very soon in which we will offer a superb Prize…but the prize remain a secret for now! OR you can subscribe to our email list to get information about the next Giveaway.
Anyways, let's get back to the present giveaway.
GIVEAWAY PRIZE:
We are providing 5 license keys of Handy Backup Standard (worth $197). I will be giving this Handy Backup Home Standard 7 Version to 5 lucky winners.
This contest will be running from May 25, 2012 through to May 31, 2012 and the winner will be announced on this blog on 1st June 2012.
General Giveaway Rules:
How to Enter the Handy Backup Home Standard Contest?
1. Duration of Giveaway: 1 week, starting at Friday 25th to 31st. Winner will be decided on 1st June.
2. Winning: To Win/Enter Giveaway, a reader should follow the Rafflecopter and post a comment (Quality Comment) with email and fill the Survey (optional). Filling the survey will increase chances of winning.
The chosen winners will be contacted by e-mail; therefore, make sure that the email is valid. I will wait for only 48 hours to receive responses from the winners. If anyone does not respond within that time frame, I will have to select another winner.
About Handy Backup Standard
Searching for reliable backup software? Handy Backup Standard is a great choice for everyone who is looking for a cool backup tool with powerful features:
 Automatic Backup with Scheduling.
Backup Various Data: Files & Folders, Mail, Skype, Your Website, Media and More.
Backup Every Application – Including SEO tools that you're not willing to lose.
Read more at Handy Backup Official Site http://www.handybackup.net
Get an Ultimate Chance to Win Handy Backup Standard for free!
Survey Questions:
1. What data loss cause would you want your backup software to prevent in the first place?
        a. Hardware malfunction or loss (God forbid laptop stealing and hard drive failures!)
        b. Virus attacks eating my data
        c. Someone deleting something valuable to me
        d. Software malfunction
        e. All that
        f. Other / What?
2. What exactly do you think deserves to be backed up?
        a. Docs
        b. Pics
        c. Videos
        d. HDD snapshots
        e. Databases
        f. Servers
       g. Email messengers
       h. Application data
       i. Other / What?
3. Like the idea of Instant availability and top security for data, stuff stored to the Cloud?
        a. Yes
        b. No
4. What's your favorite blog besides iTechCode?
Survey Sponsor: Handy Backup http://www.handybackup.net, the meaningful backup software.
We hope you win, and wish you good luck!
P.S. Get in our email list to get updated whenever we publish new cool giveaways (use the Subscribe box on Top Sidebar or Page).
Winners
Irfan Siddiqui
Hari Narayan
Mohammad Mushfiqur Rahman
Koundeenya Dhulipalla
Rohit Kothari
My heartiest congratulations to all of you. Thank you for participating. I expect many more participations in future.
ITC is going to organise many more Giveaways shortly. Please stay in touch. Subscribe Our Feed. Something more exciting is waiting for you. Stay in touch!
Thanks.