This is a Guest post By Erik.
The sidebar of your blog can be filled with anything you want, but there are 7 things that I think should not miss.
Items that will not only help retain readers longer on your site, but also that will invite them to return, in order to check your new articles, or better yet, subscribe to your newsletter and purchase your products.
Here below you find 7 elements that you should not forget to put on your sidebar ( points not necessarily in order of importance ).
1. Opportunity to Subscribe via RSS or E-mail
Given assumed that your blog has high quality content, your readers will naturally be pushed back to read your latest articles.
But you should simplifies their lives!
Add an icon that links to your RSS feeds and allow them to receive notification of your new posts via email.
In my blog you will see these 2 options at the top right navigation bar. Did you registered? No? What are you waiting for !
You will receive a message just after I will write a new post of your interest.
2. Categories
You can call this a list of topics, issues of interest or something like this. Whatever name you want to use, this list makes easier for readers to navigate your blog and find what they need.
My advice is to not create more than 8-10 categories – unless you really need them – in order to not make chaotic the selection of topics.
3. Most Commented Articles
The sidebar is the ideal place to post your most commented posts,  in other words those that attract more traffic.
In this way readers will not only not have to waste time finding your more popular articles, but they will be driven by curiosity to find out why these posts are most popular and this will facilitate further the share around the web.
You can use the WordPress Popular Posts plugin, which has different options to list your most important articles.
I use Posts By Tag plugin, that show the posts per tag. I have included the tag "featured" in my most loved posts, in order to have them "featured" in my sidebar.
4. Recent Articles
Inserting on the sidebar your latest articles, primarily helps visitors that come to your blog through a post, rather than the homepage, to understand which are the latest articles that have been published.
It is therefore indirectly a great way to invite your visitors to read more and to stay for more time to your blog, reducing the bounce rate and increasing the page views.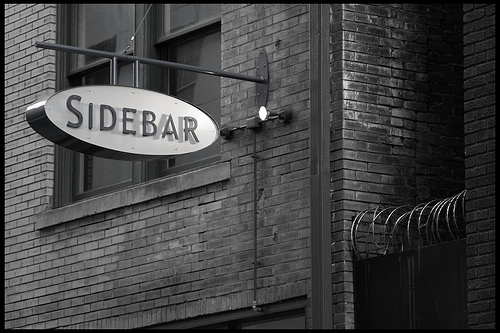 Image by: Getawayplans.
5. Search Box
The search box helps those who are interested to find articles that contain a specific keyword.
You can put it on the sidebar, but another option is the top navigation bar, which is  fairly a common place.
Just be sure that your Search Box is functioning, as you do not want to worsen the experience of your visitor with a tool that leads nowhere!
6. Link to Your Profiles on Social Media
Including a link to your pages on social media networks, allows to keep your readers updated on other alternatives to your blog pages. Pages that probably are visited every day.
You can think to add a Facebook Like Box, or the Twitter Following widget, or the Google Plus button.
If you want to have it easier, just use the WP MashSocial Wigdet. It is a great widget inspired by Mashable, that you can add to your sidebar, which allows you to add your Pinterest, Google Plus , Twitter , Facebook accounts and Feeds Subscription in it.
You can see it also in the right top of iTechCode. I love the way it looks like and how easy is for visitors to connect with the author of the blog.
Have you already clicked on it? If you have not already done so, please make haste and help me spread the word. I will really appreciate this.
7. Call to Action (CTA)
Now that you have ensured that your best content is well in evidence in your sidebar, it is time to include a 'call to action' or literally, a request to your readers.
The invitation should be to subscribe to your exclusive newsletter, for example. Or to purchase one of your products.
Try to make the CTA as visible as possible in your blog. Just thing about this situation : if it was the first visit for a reader, it should be the first thing he sees when he arrives in your blog.
After all, those who sign up to your mailing list, will receive exclusive content, that is not otherwise available on your blog. Like for istance a free eBook, a training course or a series of video tutorials.
Don't Miss : 3 Things That You Can Do To Increase Your CTA
Just be sure that this call to action is clear and visible.
In this regard, have you already subscribed to iTechCode's newsletter or RSS Feeds?
If not, I invite you to do it right now!
Is there anything else that you recommend to include in the sidebar of a high quality blog?
Thanks for your suggestion!