When I started blogging in the year 2011, I was very much in airs to own website as I was the first person to own a website among my social group.
I was not at all familiar with other bloggers at that time. What did they do ?? How they started their journey ??
I was not a dreamer but had various fantasies which I wanted to accomplish via blogging at early times. And without even knowing the meaning of "B" in BLOGGING, I started to blog.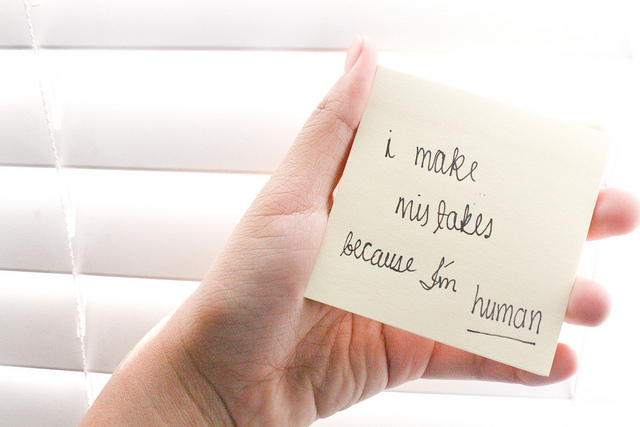 At every single step, I was unknowingly but surely making mistakes. But now I know that I have learnt a lot from my mistakes.
Here I will reveal my some of the mistakes that I did as a newbie. And I really feel that every beginner should know about these common mistakes in blogging journey and avoid them if they want to grow in blogging world.
1. Adding Different Topics On Your Blog –
This is the most popular mistake I have seen people doing while they blog. Even I did it in my past. I never gave importance to a specific niche. I just randomly wrote things that I saw regularly in newspaper or something that I found hilarious. I was just writing different topics daily. There were not related post to my previous posted articles.
What to do – You should always choose a niche for which you want to blog. Writing different topics in your blog will not make a real sense.
2. Write Quantity content and Not Quality –
You have heard everywhere in blogging to write articles as much as you can. But, one thing you should know that they always tell to write a quality article. I did not know this thing when I started. During my early days as a newbie, I spent time in writing posts consisting of just 80-100 words along with a sexy picture and in the end added irrelevant links. Is this the right way to blog ?? NO, This is not a right way to blog.
What to do – Always try to right full information on each and every post you write. Never try to fool readers in the blogging profession. Write articles of a good length like Amit Shaw's posts in iTechCode. Google will always give 1st preference to your blog if you provide the best information about that article. And after recent updates brought out by Google, one must not even think of writing short posts.
Don't Miss : How to Write Great Content that People Will Read
3. Adding More Keywords In Your Post –
This was another blunder mistake that led to my blogging graph showing a downfall. When I was a newbie, I always thought that adding more keywords will fetch me more search results. My blog is still suffering from Google Updates. These algorithms continue to make my nights sleepless.
What to do – You just need to keep an eye on your keywords. Few days back, someone told me that I am again doing mistakes while adding keywords. I immediately contacted Amit via Facebook and asked if I was repeating my mistakes and again doing blunder??
What Amit said – "No Brother, Its FINE. There is no need to worry 🙂 ".
After listening to those words, I felt better and confident to work hard once again. Coming back to the point, you should always maintain a ratio for keyword density. I know this is hard to do. But after following this basic tip, the results will be more fruitful.
4. Commenting On Other Blogs Is Waste Of Time –
I always thought that commenting on other blogs is really a waste of time. But it was again a misconception in my mind about blogging. I always felt lazy to throw a comment on other blogs. I never understood that commenting on other blogs has its own own importance. I was like doing nothing in blogging. I have been always a lazy person to read different articles. What I was doing was not right and when I got to know about the advantages of blog commenting. I developed and inculcated the habit of reading blog posts and started throwing a valuable comment on the posts of other blogs.
What to do now – Try to read blog posts of other famous bloggers. As we know, Amit Shaw is the no. 1 blogger in Kolkata (India). You must read his articles to gain more knowledge. Once you develop this habit, you will be one step closer to achieve success in blogging. Give your own reviews about that topic. You can even ask your doubt in the comment section if you have any. This will develop a healthy bonding between other bloggers and you. And finally, they will help you at the time when you need them.
Also, don't forget to comment on my post as this is my first guest post in my blogging profession. 🙂
Don't Miss : The Real Power of Blog Commenting
5. Just Blog For Money –
I have told earlier in this post that I was living in my fantasy world and dreamt about some unrealistic things when I started. As said by Edgar Cayce – "Dreams are today's answers to tomorrow's questions."
I was unknowingly doing wrong things. I was thinking that blogging is just money making machine. I just have to write articles and money will flow.
"I was totally wrong".
All I wanted was to become rich in short time. I never tried to see the reality.
What to do – If you are still thinking that through blogging, you will be able to earn a handsome income then you might be wrong. There are many people who left blogging only because they don't want to move on the right path. They were not following right guidelines and the SEO tips.
Once you start moving on the right path, you will soon start earning well. All you have to do is –
Just try to write in your own words, try to write what you really feel, try to write for your readers, try to write from your heart.
If you try to write like this, then Success is not far.
Image Source : Flickr.