When Apple iOS 5 made its debut, there was a huge hype around it, with developers claiming it to be the world's most advanced operating system. While the user experience is something that can still be debated, the latest OS is just around the corner as the beta version of iOS6 has just been released a few days back. So let's take a look at some of the highlights of this OS and how it can trump the earlier version: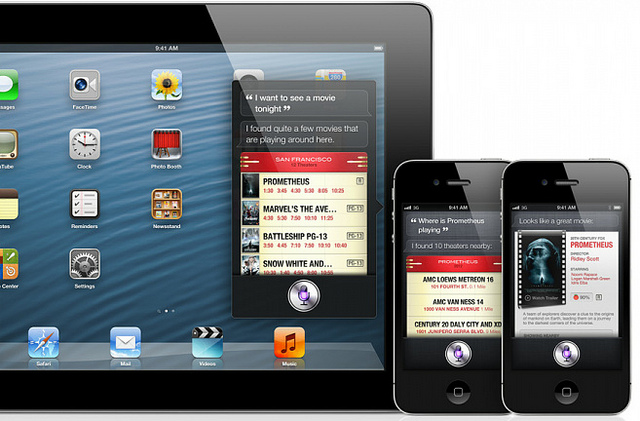 Image Source : diTii
1. The All new Passbook
Though the name Passbook sounds like an imitated version of Facebook, they are almost two poles apart. Passbook is in fact Apple's new e-ticketing app that will soon make its way into iOS devices. The app enables you to carry electronic tickets for anything, ranging from a sporting event to a rock n roll night.
Users will also be able to see vital statistics about their tickets right on their iPhone  – for example, the balance in their card, where their concert seats are and much more. Users can also scan their iPhone or iPod touch to redeem any coupon or check in for a flight! What's more, it will even alert users if they enter the wrong terminal in the airport!
2. An Improved Siri
Siri played a vital role in the success of iOS 5, so it's imperative that the developers are trying to make it as good as possible, and improve it immensely. The Siri that is incorporated in iOS 6 not only understands a wider range of questions ranging from sports to arts to everything else, it also comes in more languages.
Talks are also doing the rounds that the Eyes free feature will put a Siri button on the steering wheels of popular luxury cars, including Jaguars, BMWs, Mercedes', Audis, Toyotas, Hondas and many more.
3. Maps
Yep, the much awaited Maps app is finally going to make its way into the new operating system. The maps will not only offer detailed traffic information but also convert into a satellite-navigation system, providing turn by turn navigation that can be controlled by voice using Siri.
Also, brilliant flyover 3D views of major cities are offered, which make for some excellent viewing. However it will be interesting to see how it matches up to the mighty Google Maps.
4. Safari App
The all new Safari app is one of the major highlights in iOS 6, with some new features having been introduced. As expected, iCloud Tabs has made its debut, allowing users to view a list of the tabs they had opened across multiple iOS devices in the Safari browser, and carry on from where they left. The new Safari app also enables offline reading, which means you cna save full web pages and view them without an internet connection, whenever you want.
Also, now you won't need to access your computer to upload any videos or images anywhere, you will be able to upload them right from the cameral roll in Mobile safari app!
5. Facebook Integration
With almost all smartphones (and some not-so-smart ones), offering Facebook integration, Apple must surely be feeling left behind. Now that they have finally decided to integrate Facebook into their OS, they have made a bold announcement that it will be "the best Facebook integration ever in a mobile device"! While we can't guarantee that, it certainly allows you to share anything you want to, without the need for an app. You can update your Facebook status, share photos from your iPhone camera and even share your location from maps.
Final Word: iOS 6 certainly packs a punch when it comes to the user experience since it comes with a plethora of new and exciting features, most of which are going to be seen for the first time in Apple's operating system. This makes for exciting times ahead, and we can only wait for the final version of iOS 6 to release!