Anyone who has been blogging for a decent amount of time would know that while it's relatively easy to bring in visitors by writing about the topics people search for, it is quite difficult to make them stay on your blog. However if you work hard to improve the end-user experience and make your blog visitor friendly, then you will notice that people would start getting hooked onto your site.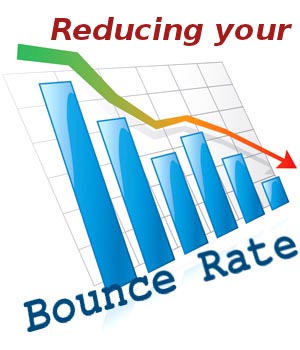 Here are some tips that have worked effectively for me in reducing the bounce rate by over 20 percent on my blogs, and can do the same for you if implemented properly:
1. Improve Your Design
As in many other aspects of life, the first impression is the last impression. So you should strive to create an engaging design that captures the attention of your readers and gives them a professional feel about your blog. The best advice would be to keep your design as neat & clean as possible, with a clear navigation that enables visitors to check out the other posts easily.
Don't Miss : Tips to Choose the Right Look for your Website
2. Improve Your Loading Time
The loading time of your blog is another important factor that influences the bounce rate. If your blog has too many widgets & plugins, then it will naturally take some time to load, which may put off certain readers and they might leave your blog without reading any of your posts.
Try to keep the number of plugins to the minimum and deactivate any unnecessary plugins that you may have enabled. Also make sure that a caching plugin is installed to reduce the size of your pages and improve the loading time.
Don't Miss : 6 Simple Steps to Improve Your Website's Speed
3. Use Attention Grabbing Headlines
Most bloggers tend to use simple headlines that do not ring a bell in the heads of the readers. On the other hand, some bloggers use catchy phrases in their headlines which instantly grab the attention of readers and makes them instantly want to read the article.
Even if you notice this post, the headline could have been "How to Reduce the Bounce Rate of Your blog", but I purposely used a much more catchy headline "7 Effective Tips to Reduce the Bounce Rate of Your Blog". It sounds much better, doesn't it? 😉
Don't Miss : How to Write Great Content that People Will Read
4. Make Your Posts Error Free
If your readers encounter grammatical mistakes or misused phrases in your posts, they are likely to leave your blog without reading any other posts, so you should ensure that your each and every post should be error-free and grammatically correct. Also make it a point to read the posts before publishing them as you will be able to correct any typos or missing words in them.
5. Interlink Your Posts
Most of the readers are generally quite lazy, and tend not to browse any blog for too long, unless they are given an initiative to do so. What this means is that the onus is on you to make sure your readers want to read more of your content.
The best way to do this is by interlinking certain keywords in your post to other posts on your blog. You can either do this manually, or use a plugin called SeoSmartLinks which automatically creates internal links in your posts.
6. Reduce the Number of Ads
Though you need not remove ads entirely from your blog, you should try to place them in such a way that they do not lead to a bad reader experience. Also, pop-ups, pop-downs and other irritating ad types should never be used or the first time readers would most likely never come back to your blog ever again as these types of ads tend to be quite intrusive for readers.
7. Open External Links in New Window
This is a smart trick that most bloggers forget to implement. If you have a habit of linking to other websites/blogs in your posts, you should add target="_blank" to make the links open in a new window so that the readers stay on the post they are reading on your blog.
If you implement all of the above tips, then you will certainly notice a vast improvement in your blog's bounce rate.