If you are serious about making your online venture, blog or business a success, then you're going to need to get clued up about SEO and make sure you are using the best resources available to help you. Here are 15 SEO tools and techniques you should definitely be looking to adopt: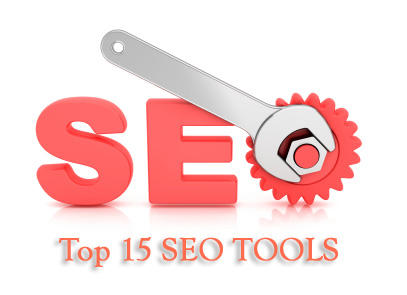 1 – Backlink Analyzer
There are several free tools that will analyze how many backlinks your webpage has, and this has a huge impact on search engine rankings so is certainly data you're going to want.
2 – Domain Age Tool
The age of a site is quite important in Google rankings, with mature sites having more stable ranking positions. While you probably know how old your own site is it can be a good idea to check the ages of competing sites.
3 – Domain Popularity Analyzer
Another way to see how your competitors are doing and glean an edge over them is to use a domain popularity tool to see how they compare in terms of backlinks and visits.
4 – Google Pagerank
The Google Pagerank is a statistic that tells you how Google views the tested URL. Google offers a tool to reveal this for your site (and any others you want to test) as part of their toolbar, though you can also check it on Google's tools site without installing the toolbar.
5 – Google Banned Tool
A tool is available to test whether or not a given URL is on Google's databases. If it isn't, chances are it has been banned by Google (this can happen for all sorts of reasons). No amount of SEO techniques will help a banned site get good rankings!
6 – Keyword Density Checkers
There are plenty of tools available which will tell you what the density of a chosen keyword is on a chosen domain, page, or set of content. This can help you check your content is within the correct margins for the keywords you want it optimized for.
7 – Keyword Suggestion Tool
There are tools that can help you work out what other good keywords would be based on the prime ones that you have chosen.
8 – Outbound Link Checker
Links to other sites, especially reputable, high volume ones like news sources, can actually help your site's SEO. An outbound link checker will show you how many links you have to other sites (as well as internal links) and list them out to help you make sure you have made the most of the opportunity to link out to important sites.
9 – Plagiarism Checker
Test all of the SEO content you are going to use for uniqueness using a plagiarism checker such as Copyscape. Google prefers unique content.
Don't Forget : Top 10 Ways to Check For Plagiarised Content
10 – Search Engine Ranking Reports
Search Engine Ranking Reports (often called SERPs) contain data about how well your page and site fare in the major search engines for your keywords – this can give you a good idea of how well your SEO strategy is working.
11 – Pages Indexed Analysis
Use a tool that analyzes how many pages from your site are currently indexed by the main search engines in order to check all of your pages are being picked up at the moment.
Don't Miss : Quick Tip: How To Know If Google Is Indexing My Articles Or Posts
12 – Link Popularity Checker
A link popularity tool will tell you how many sites are linking to you. While this is similar to a backlink checker, a backlink checker will find all links including those on social media sites, whereas a link popularity checker will find the sites with permanent links to yours.
13 – Google
Use Google itself to analyze your site's SEO. Turn off any personalized settings, run advanced searches, and generally test out things you think your desired users will be doing on Google to see how easily they will currently find you.
14 – Backlink Building Tools or Services
Use automated tools or professional backlink building services to create more backlinks to your site and help you build up your SEO.
15 – Link Validator
Use an automated link checker periodically to check all of the links on your site still work.