Time for another giveaway! If you have been already been impressed by WP Email Capture Premium, this is your biggest chance of getting it for free.
Giveaway Prize
This time we are giving away WP Email Capture Premium (Price: $49). 2  winner will get the prize.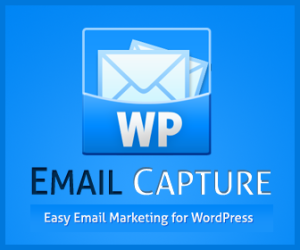 How to Enter the WP Email Capture Premium Contest?
1. Duration: A week, starting from October 20 to October 27. The winner will be announced on October 28.
2. Winning: All you need to do to enter is to follow the PunchTab and post a quality comment with your email. * If you are not getting PunchTab Widget, then press CTRL+F5.
WP Email Capture
Online marketing is a meddlesome job with no guarantee of good results. So, it pays to have some technical tool to give your marketing website a push. WP Email Capture is such a plugin that will decidedly improve your WordPress marketing blog by helping distribute products and building up email lists of interested customers.
It has several user-friendly features. It is a widget ready plugin that has separate landing pages for complete forms; this will help you give out software or ebooks or other products. It has a dashboard widget, which integrates the software without having to delve deep into your homepage to pull up the plugin. It has double opt in, so it is compatible with CAN-SPAM act. You can export data into CSV files as well. There is a free version of the software too, but with such an economical price for such a useful tool, I recommend you buy the premium edition. With the premium version, you will get the following features:
Tracking visitors
This will allow you to keep a track of visitors by capturing all the emails used in signups. It will also help you generate stats of the demographic your products appeal to, or locate specific regions where most of your user base is from. You can also summarize which of your marketing methods have been so effective thus far from tracking visitors.
Auto-responder
This is a nice, little feature that will help make your blog look more professional. You can write an email and feed it to the Auto-responder which will then send it to all the emails of users who have signed up.
External Lists
This helps you integrate the mailing lists with your pre-existing Mailchimp or Aweber or Groupmail or Constant Contact account.
Multiple Lists
You can create multiple lists with WP Email Capture Premium. Building various lists for different auto-responders, users from different regions- it all helps organize the plugin more.
Exquisite templates
There are completely customizable CSS forms that developers are so fond of. But even if you have zero experience or knowledge of CSS, there are some pre-installed, 'sexy' templates for you to use.

The chosen winners will be contacted by e-mail; therefore, make sure that the email id is valid. I will wait for only 48 hours to receive responses from the winners. If anyone does not respond within that time frame, I will have to select another winner.
We hope you win, and wish you good luck !
P.S. Get in our email list to get updated whenever we publish new cool giveaways .

Winners
1. Sai Kumar – FB Link
2. Yogesh Vashist – FB Link.
My heartiest congratulations to both of you. Thank you for participating. I expect many more participations in future.
ITC is going to organise many more Giveaways shortly. Please stay in touch. Subscribe Us. Something more exciting is waiting for you. Stay in touch!