Email marketing is very much a product of the 21st century – the so-called "Age of Technology". If you were to ask people a few decades ago what they could tell you about marketing they would probably tell you that television and radio were huge ways to get noticed by your demographics, as well as billboards and maybe even mail-order catalogues. Along with online advertising, which has a fair few flaws, email marketing is truly a modern approach to advertising that offers all of the benefits of a modern age.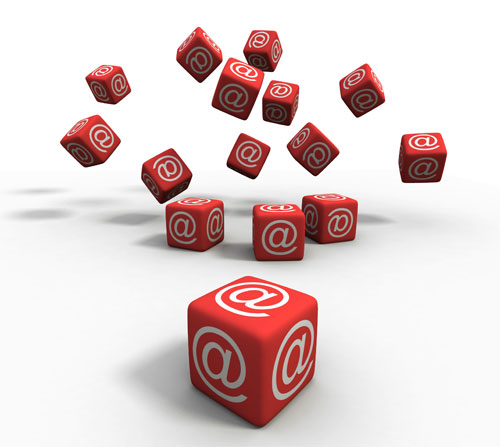 Don't Miss : Top 25 Email Marketing Tips
One of the great things about email marketing compared to other forms of marketing is that it is relatively cheap in comparison. All of your costs go towards things like web hosting and a domain (petty cash), and also a good email marketing service to help with your campaign's organisation. When you compare the total costs of this to something like a television advertising campaign, something which is becoming increasingly outdated with on-demand television, the costs are significantly cheaper. Of course, it's not "free", but it might as well be, as email marketing offers a lot of benefits that are actually free.
You see, you can make sure to utilise your subscriber list efficiently to help you spread your marketing campaign around the internet for free after you have initiated it with that first email. Think of the first email of your marketing campaign as a domino, and each subscriber in your subscriber list as other dominoes. When you push it over, you can topple another, and another, and another. If you arrange the dominoes just right, you can create a chain-reaction knocking over potentially millions like some sort of world record Rune Goldberg machine.
Don't Miss : Email Marketing in 2012
The great thing about an email marketing campaign is that usually your aim is to get your subscribers to a landing page and to do some sort of task based on the internet. The great thing with this is that, you know – internet; email. You have to get to have one to get to the other. You can be sure you are not wasting any emails on subscribers that are not in your demographic. Email marketing allows you to reach 100% of the people that you want to reach.
And email marketing makes everything super easy on the user-end, which is literally amazing for user co-operation and satisfaction. Because you're getting to your subscribers in an area you already want them to be – email and the internet, you know that they are going to be getting the email on the internet. I cannot stress this golden nugget enough. If all you want out of your marketing campaign is, say, a "like" on a Facebook page, then that can be literally a single click away for the user. It's no hassle. It's about 0.0001% hassle for the user to click a "like" button integrated into an email (and if you don't know how to do this there are great online clients out there that will offer email newsletter templates for you to use!).
Overall, then, email marketing is extremely modern, allows you to reach millions of people, and then allows them to spread your reach even further without doing so yourself. Email marketing is also not only easy and efficient for you, the marketer, but also for the subscribers you're sending email marketing too. The people you're marketing to are always the key in any successful marketing campaign – online or otherwise. By getting them in an environment where they want to co-operate with your marketing and can do so very easily is a significant benefit to email marketing over any other sort of marketing that exists. In summary, the main benefits: it's so easy, and it's so simple.
Author : Jack Harding is a keen writer about online marketing, looking at all aspects of how it can improve one's online profile. He is particularly interested in giving a good insight into email marketing as it is an affordable as well as effective way to attract clientele.