Word count : It's somewhat surprising that there seems to be so much confusion with regard to what is probably one of the most important aspects of online writing. Ask ten people about what the proper word count should be for blog posts and you will likely get ten different answers.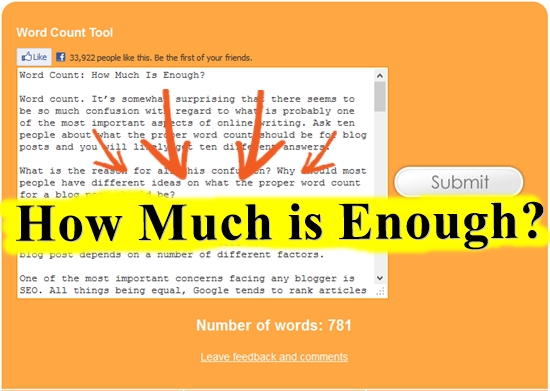 What is the reason for all this confusion? Why should most people have different ideas on what the proper word count for a blog post should be?
One reason is that there really is no such thing as an "ideal word count" that can serve as a general rule for all posts. As it turns out, the ideal word count for a blog post depends on a number of different factors.
One of the most important concerns facing any blogger is SEO. All things being equal, Google tends to rank articles that hover around the 300-word mark higher than longer or shorter articles. For purposes of attracting the favorable attention of the major search engines therefore, a good word count to shoot for is around 300.
As important as SEO is however, it is not the only factor that should influence a blog's content. You will also have to consider your niche, the type of information that you wish to convey, and the interest of your readers.
So how do you go about determining the proper word count to shoot for given your specific concerns? Here are a few things to keep in mind.
Let your content determine your word count
One mistake commonly made by inexperienced online writers is focusing all their attention on hitting a certain "magical" word count without considering the nature of the content. In many situations, the type of article you are writing should give you a clue as to what the proper word count should be.
If you are writing complex technical articles, you would probably have a higher word count than if you were writing about more "trivial" subjects. Updates and announcements should also be fairly short, so resist the urge to pad them out unnecessarily.
Structure dictates the word count
In most cases, the type of content you are offering will often determine the structure of the article. What you should always keep in mind is that you are writing in the service of your readers. You should therefore strive to present information in a logical and structured manner.
Keep in mind that a long post isn't necessarily a bad thing, but you do have to make more of an effort to present your ideas in an easy to digest manner. A "tutorial" type of article often requires long and detailed instructions, but you can break up the text easily by presenting your major points in a list form.
Pay attention to your audience
All this assumes that you know what your audience is thinking and what they prefer with regard to content and structure. However, you do also have to consider the specifics of the particular demographic you are courting.
Some readers may be more interested in information presented visually rather than in imposing walls of text. Conversely, other readers may prefer to get as much detailed information as possible without too many distracting graphics and pictures to get in the way.
Over time, you will get a better idea of what it takes to capture and hold your audience's attention. If you start out writing relatively short posts and you can clearly manage to retain your readers' interest, this could be an indication that longer posts will be welcomed. On the other hand, if you find that your lengthier posts don't attract as many replies as you wish, it might be a good idea to trim it down a little.
What do you think?
At the end of the day, it is you who will have to sit down behind the computer and type out all those words. You should therefore ask yourself: how many words are you comfortable typing? How much valuable and relevant information do you really have to share?
If you feel that you can get your message across with only a few paragraphs, then that's what you should deliver. If you feel that you need to explain your point more thoroughly, then use as many words as you feel is necessary. The point is to write in the service of your readers, and let that be your guide rather than some arbitrary word count requirement. When you do so, you will be much closer to providing actual value to your readers, which will be a lot more helpful to your blog than meeting the standard word count.