If you are aware of the recent updates from the world of internet, you would know the term called going viral. Even if you're not aware, let me clean the dust over the term of going viral. In simple words, going viral is getting on the front page of internet in short-time. Whatever may be the category i.e., a music video, blog post or news story, todays internet population has an extreme advantage of making everything popular in short span of time. So, the only way that makes content or anything go viral is totally dependent on how the people over the internet react to it. Now, assuming that you're fully aware of the term called going viral, we shall now proceed on things which you should worry about if you're thinking of going viral.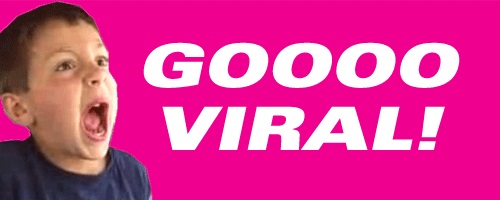 Points to Consider Before Thinking of Going Viral?
Traffic and Website
As I discussed earlier, going viral deals with attaining wild increase in traffic in short span of time and if the viral content is being hosted on your website or blog then you must gear up for taking up wild traffic. For that part, you can buy VPS hosting to deal with huge traffic which you're expecting. If you remember PSY's Gangnam style music video, it had hit millions of views in less than a week or two. This sort of traffic requires you to have good hosting solutions.
Human Interest Story
People love reading real stories and if you're good at writing such real stories, you've an upper edge. In fact, if you've noticed the viral content so far such as Kolaveri Di (Song), Gangnam Style or Harlem shake was never created for going viral. In most of the cases till now, the videos or content went viral because they were touching the bottom of the heart or were funny enough to make you laugh.
Authentic & Genuine
Viral videos that we have seen so far had one thing in common. They were authentic and genuine and they were never intended to be made for going viral. The feeling that you get after watching these videos is extremely important and that's what makes the difference. Now, if you're thinking of making something for the purpose of virality, make sure you do it in most natural way.
Usefulness of Content
Practically speaking, the content which is useful to the large section of community is shared most. Now, how to create useful content? Right? Well, when you complete an article, go through it once again and find out whether you're provoking your readers to do any actions? What I mean here is- are you telling your readers how to use the content in their next action? Because when they use it and get desired results, they remember you!
Emotions
The content which doesn't allow you to express any emotions will never go viral because only when the emotions are expressed, people around you will notice. So, whatever the emotions could be-positive or negative, write an article in a way that those emotions would come out of the readers mind and be reflected on your article.
Top Emotions that makes your content viral
1. Anger
Anger is one of the emotions which are highly likely to be trend on Twitter or other social media channels. It's because when you mess with people, they will try their best to take revenge, prove their point and the most probable ways of taking revenge would be through Twitter, blog post or a video. Now, how you can make people angry? It's simple! Just challenge their daily beliefs and you're on their list.
2. Anxiety
Nobody likes losing out! And when people loose, anxiety is clearly seen on their faces!  So, if you're talking about losing out something, you're on the right track of making people anxious.
3. Awe
Awe is feeling which I believe is one of the safest to follow. It is that feeling of surprise which you do get for most of the time such as when watching sci-fi or romantic movie.
4. Joy
Generally, things that are funny, interesting, inspiring ending with positive note are the ones that can be categorized as the ones with full of joy. One of the best ways of finding attention by this feeling is by telling your readers a story of your life which they can relate to theirs.
5. Fear
Fear is one of the feelings which can either motivate you to achieve greater heights or take you down to the lowest possible level. One of the ways which I follow in building up fear is by telling people their mistakes that they are doing.
Next Action
I, myself mentioned something called next action in this article and I would like to leave an example of the same within the same article. For this instance, what you can do is- sit down and think about the emotion which you should target. Once you've finalized it, go ahead and write an awesome article in the most natural way without thinking of whether the article will go viral or not.