Do you drink coffee?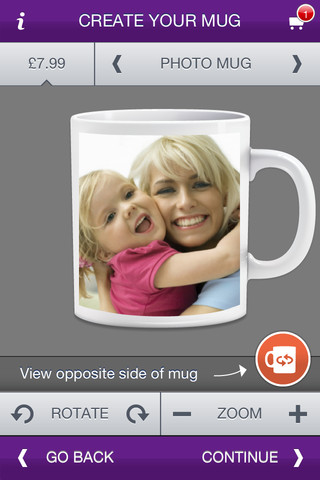 I am damn sure for many of you coffee is the second solution to any problem (first is beer :-D).
There are two really great uses of coffee mugs, drinking coffee and giving them as a gift. Everything is getting personalized today and your coffee mugs are not safe from the personalization effect.
Won't it feel great if you gift a good quality coffee mug to your spouse with her picture printed on the mug, yes it would be a nice deal, right?
Now let us see, you are actually impressed by the idea of getting your partners photo printed on the coffee mug, what would you do?
Take the photo in a flash drive or your phone to the nearest guy who prints images on mugs but for that you need to get out of your bed, you can't do it.
There is an application available in the itunes store which lets you order such mug from your iPhone or ipad and get it delivered to your home.
The App is known as Photo Mugs and lets you order one such gift directly from your iPhone or ipad, this application is one of its kind (though there are other websites but this is the first application for a cell phone) and is owned by a company from the united kingdom.
So, what this app does is, it lets you create a custom design for the mug just using your idevice and with just a click you can order it for shipment.
The company claims that 90% of its orders are received by its customers the next day of ordering, Super-fast.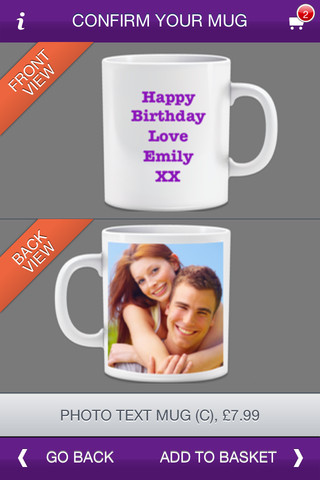 The rates are quite nominal as compared to other services available on the web.
The best thing about this app is, you capture an awesome picture via your phone and without wasting your precious time in roaming in the market you can just import that image to app and start customizing according to your needs, and how it will look like once it is printed.
You can adjust the alignment of the image, the color tone; choose the type of design (full wrap, photo and text, two photos or a collage).
The interface of the application is quite clean giving an awesome user experience, you don't want to irritated while ordering.
The company uses premium quality European mugs for printing; you don't want a low quality mug with a high quality image on it.
You can pay for the order via your phone only using your credit card, debit cards or the merchant facilities directly from the application and just wait for the delivery boy to ring your door bell.
Over to You
Overall it is a really nice app and being the one of its kind for idevices I'll surely give it one more point, the prices are nominal, it offers good customization features, simple and elegant user interface, good delivery and you would be surprised to know that the company claims that till date, since they are in this business none of the mugs are received broken.
"The mugs are dishwasher safe".
Download the app from iTunes store.