Lollipop 5.0 is a fresh new operating system that can drastically improve the appearance and functionality of Android devices. While the impressive visual features and productivity updates made Lollipop 5.0 an intriguing option, glitches in the programming have slowed adoption. With the upcoming 5.1 upgrade, you can skip some of the growing pains and adopt Lollipop in a more mature format.
Material Design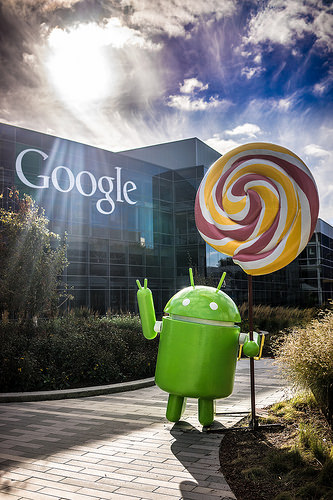 Image via Flickr by j0sh (www.pixael.com)
One of the signature changes in Lollipop 5.0 is an aesthetic update that's instantly noticeable for observant users. This update is known as Material Design. The new design assigns sleek geometric buttons to the home, recent, and back buttons. If this part of Material Design is masked by a custom skin from your smartphone manufacturer, you may see the update shown in the shadow effect that happens almost any time you touch the screen. Lollipop registers taps with onscreen shading that makes it easier to see exactly when and where the device acknowledges your touch.
Material Design also assigns each app its own card that's layered over the background. Each element occupies its own Z plane. The detailed shadow effects that are one of the signature features of Material Design help you see where each layer sits. This is ideal for multitasking on your device. Animation and color are major elements to take note of with this update as well. Google also plans to use the sleek Material Design look across other apps and devices.
Improved Notifications
Notifications and quick settings lived on two separate panels in KitKat, but Lollipop 5.0 has streamlined the process of checking and responding to notifications. Notifications float elegantly above the background on their own layer. New animations as you move from notifications to quick settings make the transition feel smoother and more natural.
Users can respond to messages directly from the lock screen to improve productivity. Call notifications are less disruptive in Lollipop, popping up discreetly in a bar along the top instead of taking over the whole screen. The 5.1 update for Lollipop will fix some glitches in the notification process so this improved feature will operate as it should.
Battery and RAM Management
Lollipop features a battery saving mode that can add a whopping 90 minutes of life to your device. It turns off background data, reduces ambient lighting, and tones down vibrations when your battery is running low. Battery management is further improved in Lollipop 5.1 so you can squeeze more use out of every charge.
Poor RAM management was one complaint with Lollipop 5.0. This is addressed with 5.1, which streamlines RAM management for efficiency.
Wireless Connectivity
Lollipop 5.0 includes a network handoff feature that makes it easier than ever to stay connected while on the move. The operating system moves seamlessly from one Wi-Fi network to another, so you can continue a video chat or keep apps downloading on your smartphone such as the new Galaxy S5 without a single blip to slow you down. Lollipop can move from data to Wi-Fi so smoothly you'll never know it's happening. While previous operating systems would search for any available Wi-Fi network, Lollipop will connect automatically to verified connections.
Lollipop 5.1 improves Wi-Fi connectivity even more. Minor issues with wireless connections are fixed. The update also addresses the issue with excessive consumption of network devices on Wi-Fi for 5.1.
Silent Mode
One of the most glaring problems with Lollipop 5.0 was the omission of silent mode. This handy feature that many users consider essential is absent in the 5.0 version of this operating system. Users were left to find their own hacks for the issue by using vibration settings or extremely quiet ringtones. Naturally, one of the most anticipated features of Lollipop 5.1 is the return of the well-loved silent mode.
A month after the operating system's release, less than 0.1 percent of users upgraded to Lollipop 5.0. In comparison, Android 4.4 KitKat achieved 1.1 percent adoption in its first month. Hoping to boost adoption and offer a more appealing candy-coated option, designers are releasing Android 5.1 in early 2015. These compelling features offer some solid reasons to consider switching over.