An industry worth a massive $80.3 billion in the first quarter of 2015, according to a U.S. Census Bureau report, e-commerce is where it's at. A fundamental part of the Internet landscape, today's time-pressed consumers love the ease and convenience shopping on an e-commerce site gives them. But if you're a small business looking to hawk your wares or services online, picking the right e-commerce platform can be confusing. You want a platform that best suits your branding and your offering while offering ease and convenience. But with so many options available online, finding the right platform can be tricky.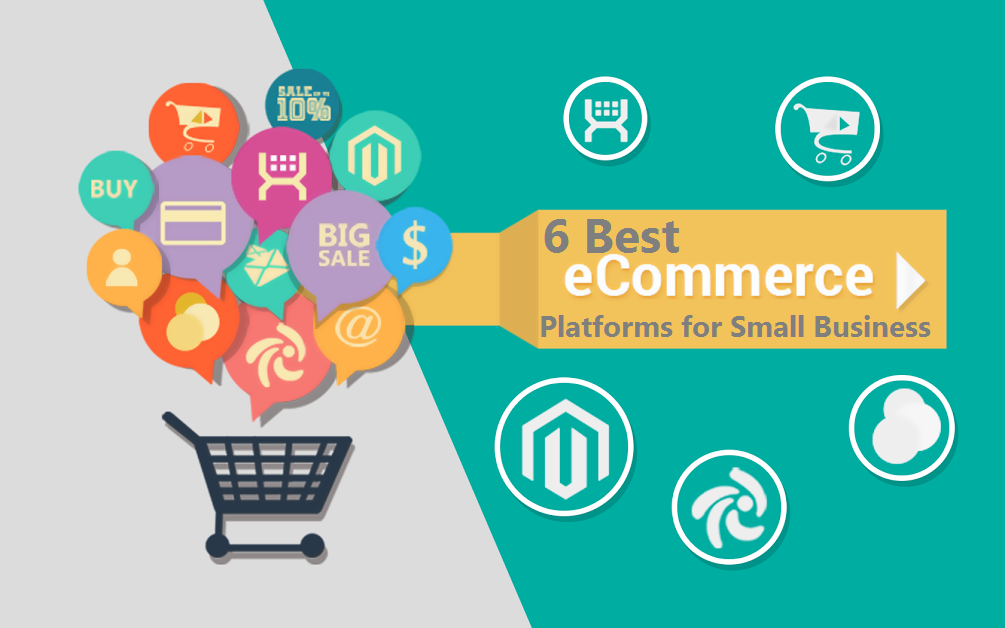 Here are our picks of the best e-commerce platforms for small to medium-sized businesses:
Shopify 
Shopify has all the features and bells and whistles you need to launch, run and manage a productive e-commerce business. Not only will it provide you with payment processing capabilities and an online storefront, it boasts the following features: web hosting, inventory management, website builder, marketing tools, back-end functionality, customer relationship management and more. It's very easy-to-use and won't require that you have technology skills to build it from the ground level up. You can get your online store up and run on this platform within a very short timeframe.
Magento
If you're on the lookout for a fully customizable online store, then look no further: Magento fits the bill.  An open-source e-commerce software, this platform allows you to customize any aspect of your online shop so that it looks, feels and works just the way you'd like it to. The platform also lets you own or fit more than one online store on its dashboard so that you can manage them all from one site. So if you'd be into offering a localized e-commerce store in Spanish for your Hispanic customers, that could be easily done.  The software also can be installed on your Web-hosting provider of choice, so that you have ample control over your online store and platform.
WooCommerce
Are you a fan of WordPress? Then WooCommerce may be your best bet as the e-commerce software platform of choice. WooCommerce enables you to turn your WordPress-backed blog or website into an e-commerce company or offers you the option of launching a stand-alone online retail store on WordPress, for free. WooCommerce's shopping cart plugin allows you to create a WordPress-backed online retail store easily and quickly. Hugely popular among online brands and companies, this easy-to-use shopping cart software gives you a wide variety of features and customization options that can be combined with any kind of theme, plugin or extension that is available on the Web. 
Selz 
If you're looking for an e-commerce platform that specializes in the sale of digital, non-physical services and products rather than tangible objects, Selz is right up your alley. This e-commerce platform allows you to sell e-books, video stream subscriptions, software, PDF files, music and other digital downloads, and additionally, handles the distribution of your product. Just create your online store, and the software will take care of all orders, payments, and downloads so that your digital e-commerce store runs on an automatic pilot, even as you sleep.
SIDE-Commerce
SIDE-Commerce skips complication and offers you an affordable priced, easy-to-use, multi-featured B2C and B2B e-commerce solution that is grounded on a simple infrastructure. The platform boasts features like a secure shopping cart, a responsive web design, analytics and an intuitive-to-use content management system (CMS). Additionally, this simple e-commerce platform allows you to create coupon and discount codes, email newsletters, abandoned cart recovery and social commerce. SIDE-Commerce also works well with top online marketplaces like Amazon and Google Shopping, as well as a host of mainstream payment tools, affiliate programs, ad networks and other services that will lead your business forward.
Volusion 
A solid software that is uniquely adapted to the goals of all small businesses out there, Volusion offers an intuitive, all-in-one, robust solution that allows a small retailer to sell its products or services quickly. Whether you're new to the industry or already manage a thriving business, Volusion offers highly functional shopping cart themes and classically beautiful website designs that require no coding or tech skill knowledge to tweak. Plans with Volusion include merchant tools, hosting and order management capabilities that allow you to hit the ground running from day one. This is just the right platform for you if you just want to focus on selling, rather than having to deal with platform technicalities. 
---
Autor Bio: Denise Recalde is a Senior Content Writer at Day Translations, a human translation services company. A seasoned writer and editor with eleven years of experience under her belt, she is a bonafide wordsmith who loves playing with the written word creatively and always takes care to lend a certain hue of snap and color to her drafts.