There was a time when the AC routers were only needed in the large corporate houses, but today there is a necessity in every home. They cater to the Internet requirement of the various connected devices such as smartphones, tablets, and other Wi-fi enabled devices.  So, this means your house needs the best AC wireless router. The 802.11ac routers are the most popular types of routers used for home networks. So, if you are looking for AC routers then you have come to the right place. In this buying guide, we will tell you about the best AC wireless router for this year.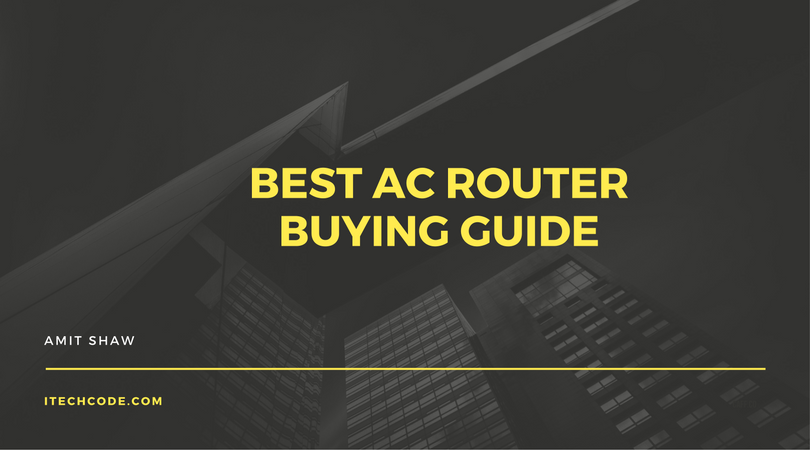 #1. Asus AC1900 RT AC68U Dual-Band Wireless Gigabit Router
The first in our list comes from the house of Asus. It uses Broadcom turboQAM technology which raises the wireless-N data rate600 Mbps making it 33 percent faster in terms of performance. It also comes with five-gigabit ethernet ports which add more speed with totally stable network connections. There are dual USB ports that come with USB 3.0, enabling ten times quicker data transfer than the USB 2.0. It also includes dual core processor that helps in responsive and fast responsive performance with the USB, Ethernet and Wi-Fi devices. It is also backed with 3 years of manufacturer warranty from the date of purchase.
#2. TP-Link Archer C9 Wi-Fi Router
Anybody who has any idea about networking products will know TP-Link and their Archer C9 Wi-Fi Router stands second on our list of best AC wifi routers.  It provides support for standard 802.11AC. It gives you a dual bandwidth of 2.4GHz and 5GHz. It comes with three dual band antennas that can provide maximum coverage and reliability.
#3. Netgear AC3200 Nighthawk X6 Tri-Band Wi-Fi Router
When you want the fastest Internet speed, Netgear deserves a mention. It promises to give you up to 3.2Gbps. The triple band Wi-Fi manages to connect multiple devices to the wifi network. It comes with six high-performance antennas along with an amplifier to maximize the coverage. The smart connect feature designates the slower and more demanding devices to different Wi-Fi bands within the network.
#4. D-Link DIR-890L Wireless AC3200 Ultra Tri-Band Gaming Router
If you are a game fanatic then the D-Link DIR-890L Wireless AC3200 Ultra Tri-Band Gaming Router is the perfect choice for you. It features the Tri-Band technology which helps in delivering an awesome gaming experience. Even if you have multiple devices connected to the router, you can enjoy the fast speed and play high demanding games. The router comes with a 2.4 GHz wireless band which promises to give you 600 Mbps and two different 5 GHz wireless bands that help in speeding up the performance.
#5. TP-Link Archer C20 AC750 Wireless Dual Band Router
This is the best value AC router that supports 802.11AC standard, with dual connections – 2.4GHz 300mbps and 5GHz 433mbps. It comes with three external antennas that provide omnidirectional signal and enhanced wireless coverage. It promises to give you the best wireless coverage and dependability from any location in your home or office.
We hope the above list of Best AC wireless router for this year helps you choose the one that best suits your requirements.