Using motorcycle headphones gives you the benefit of listening to your favorite music and radio shows when cruising on the road. But that can only be fun when you have the right kind of headphones. The headphones that are sold with smartphones can't be used when riding a motorcycle because they can't withstand the extreme conditions of the road.
It's therefore recommended that you invest in the best motorcycle headphones to continue listening to your favorite tunes while on the go. Although most people will tell you that cheap stuff is expensive, you can actually get high-quality headphones for less money. Below are some tips that you can use to ensure you get the best quality headphones without breaking the bank.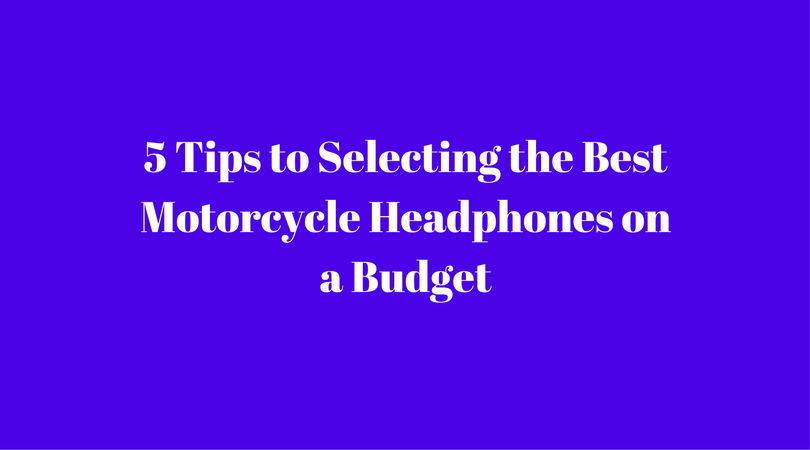 Put them to the Test
Before you part ways with your hard earned money, it's important to test the headphones that you are interested in. This is because the owner of the shop may not allow you to return them after purchasing. Besides that, you will be able to tell whether they meet your audio quality expectations. If you are not satisfied by their sound quality, test another pair until you are sure it's what you wanted. On the other hand, you should ensure that your ears are clean to reduce chances of contaminating the various headphones that you will be trying out.
Focus on Noise Cancellation
Nowadays headphones are designed to block the noise from your environment so that you can listen to exactly what is playing on the bike stereo. As a biker, you should go for headphones that offer the highest percentage of noise isolation. Such headphones come with tube-shaped speakers so that you can insert them into your ear canal. If you have to pump up the volume when cruising to fade out the roaring of the bike, you could be using the wrong headphones. As a matter of fact, it's not healthy to raise the volume to deafening levels.
In-ear Vs Over-Ear headphones
Over-ear headphones tend to be bulky which makes them not to be ideal for a biker. Though they are padded to make them gentle on your head, wearing them for the long haul can be a tiring affair due to their weight. In-ear headphones, on the other hand, come with a compact design which makes them to be highly compatible.
And that's not all. They guarantee the highest level of noise isolation. This is because they are designed to fit into the ear hole perfectly without leaving any space for noise from outside to penetrate. They can never irritate your ears due to the fact that they are coated with a foam material that stretches depending on the size of your ear canal.
Don't Exceed Your Budget
Don't be deceived by the appearance of different headphones. You should settle for what you can afford. If you go for the top of the range brands such as Beats by Dre and Bose, you will end up hurting your pockets. At the end of the day, you just want headphones that will playback some music from your device. In fact, you will enjoy the same quality of music just like the person that's using some fancy headphones elsewhere. To increase your chances of getting the best deal, you should check prices and reviews of motorcycle headphones around the web.
Check the Impedance
For best results, it's recommended that you opt for headphones that come with an impedance that is compatible with that of your device. If there is a mismatch, you will be required to adjust the volume of the device and headphones simultaneously. Under normal circumstances, you don't have to increase the volume of both the device and the headphones. Impedance is usually abbreviated ohms.