Apple iPhone 4s Siri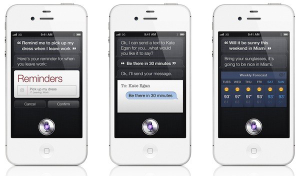 Everyone loves the iPhone 4s when it was first released last year and there was a large turn-up of fans to stores in US and some other parts of the world in order to purchase the device.
The reason for the record sales of the iPhone 4s was because of the useful and the exciting features that comes with the device.
Everyone knew that this phone is a big hit and even, the Indian government has to order Apple to produce a special version for its citizens because of the cry of the people in the country. The device is really a great launch for Apple because of the pre-order sales that were recorded on several stores throughout the US and some other parts of the world.
But, some weeks later after its official release by Apple CEO, Tim Cook at Apple's headquarter in Cupertino, the device started becoming the most hated smartphones in the industry because of the bugs recorded in its functions.
Last week on the 27th of Dec. 2011 was another great day when the device's personal assistance agent, Siri makes another costly mistake which can give people bad impression on the device.
Siri called a 12-year-old boy to "Shut the f— up, you ugly t—." and it raised a lot of concerns worldwide over the ability of the device to be able to understand different languages of the world just like what Apple promised when it was released.
Charlie Le Quesne (the young boy), asked Siri "How many people are there in the world?" and in turn, the response from Siri makes the boy felt bad about it. Charlie's parent and there manager on the other hand wants to confirm that it is true that the device responds that way and have to say the same thing again. And it came as a shock to them when Siri responds the same way; "Shut the f— up, you ugly t—."
As a statement by MSBC reads as thus:
"Siri probably thought that the name of the boy was "Shut the f— up, you ugly t—."
After the incident, the boy and his mother and their manager, asked the demo iPhone 4S device the same question and got the same answer back again from Siri. And immediately this new demo version was making some mistakes, they returned it back to Apple for "diagnostic tests."
These negative answers were believed to have stemmed from the Siri app thinking that the questioner's name was "Shut the f— up, you ugly t—."
The entire event occurred at a U.K. Tesco supermarket.
Kindly share comment concerning this Siri news…and I shall surely responds to them one after the other.
---
Olawale Daniel is a technology blogger who writes on iphone developer program on his technology blog, techatlast where he shares free Android apps for all Google Android Users.