There you are with your Gmail client open, doing the same repetitive email tasks again and again. Let's say you were supposed to send a send a message to various bloggers, asking for testimonials for your latest e-book.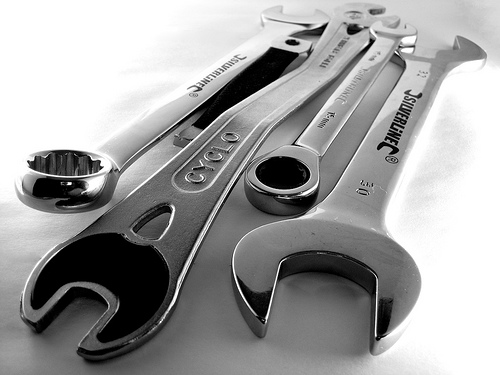 Although the task is not that difficult, it is still tedious and annoying: you are copying and pasting the same message for every recipient (with small modifications), over and over again before sending them to your fellow bloggers.
"I wish this was a bit easier" you moan.
However, this task is just one example of how Gmail could be making you feel. Although you love it, there are certain small annoyances that you wish they didn't exist.
It would be nice if things like message previews, auto-archives of your sent messages or email templates existed in Gmail, because it seems like you spend most of your time doing these tasks manually.
"Well, all I have to do is wait", you think to yourself and start again with that tedious email copy/paste operation.
There is time for doing and there is time for learning
The scenario I just described is very typical and it doesn't just apply to Gmail. The same thing happens to everyone who uses software applications on his/her computer.
The problem is that we don't make the most of the tools that could help us – we might only use a fraction of the application's features.
Yet, we face the same issues again and again: we wish that a feature or functionality would be already there to help us and save our time. However, as soon as we start to dig around the application, we realize that the piece of functionality was already in place.
If we just had taken some time to learn the application first, we would have avoided the frustration and annoyance, that we had to face.
Why aren't you willing to learn before you act?
Sometimes our action-oriented way of working does more harm than good. Instead of taking the time to learn the tools, we rush to install new software and start using it right away, without learning it properly first.
We think that we know everything already and there is no place for learning. "No one reads the manuals anyway – not me at least" you may say to yourself.
Unfortunately, this same attitude seems to be very common among computer users, whether they're using Gmail, Microsoft Word, Adobe Photoshop or any other software package.
This thought process is frustrating and even infuriating because you are not able to get a task done, even if it would be easier to learn the application first.
Gmail Labs to the rescue!
Let's get back to the Gmail and to frustrations I mentioned in the beginning.
Me: "Are you still frustrated and annoyed with Gmail's little faults?"
You: "Yes, I am!"
Well, let me introduce you to something that you might have heard of already, but might never have investigated any further. That something is called Gmail Labs.
Through Gmail Labs, Google showcases the latest additions to its famous Gmail client. Product Manager Keith Coleman specifically describes Gmail Labs like this:
"It has a list of experimental new features, and you can enable or disable each one. Some of the popular ones will become core parts of the product, and we'll eventually retire the ones that don't get much use."
So why should you care about Gmail Labs? Because it has a lot of functionality that could make Gmail work much harder for you.
In fact, many of Gmail Lab's features (canned emails, auto-archiving after sending a message, custom keyboard shortcuts) are already ready to use through Gmail – you just didn't know they were there.
The best part is that you can turn them on with just a couple of clicks.
Enough talk, let me show you how to enter the lab, how to start using certain Gmail Lab features that could make a difference to your productivity and how to use them.
Enter the Lab (no white coats required)
Enabling new functionality through Gmail Labs is very easy:
1. Log-in to your Gmail account
2. Click the Settings icon on the right:

3. Choose Settings in the dropdown menu
4. Click Labs on the horizontal toolbar:

5. Voila! You are in the Lab!
Be more productive with Gmail with these 7 easy improvements!
Once you are inside the Lab, there are 7 ways you can improve your productivity and reduce your frustration through Gmail.
1. Send and Archive. This simple functionality helps you to keep your inbox clean. It auto-archives your sent messages if you click the Send and Archive button when you send the email. There is no need to Archive your sent message separately again.
2. Background Send. No more waiting until a message is sent before you can move to other parts of Gmail. Background Send sends your message in the background, as long as you don't leave Gmail in the process.
3. Canned Responses. Do you want to send the same message to multiple people, but hate copying and pasting every time?
Use Canned Responses to create email templates for the types of messages you use most often, thus saving plenty of your time.
This feature is very simple to use. Compose your message as usual but, instead of sending it right away, click the Canned Responses link beneath the subject line. This link should appear after you enable Canned Responses in Gmail Labs.
Next, choose New Canned Response and give your response a name. Once you have composed your email template, click the Canned Responses link again and choose Save [name of your canned response]. Now you're all set!
The next time you want to use this message as a template, click the Compose button as usual, then click the Canned Responses link and choose the name of your canned response. The body of your email is automatically filled with the template.
Personally, I use this feature when I request interviews from bloggers, when I ask for testimonials or when I pitch for guest-posting opportunities. You could also use it to reply to recurring requests instead of writing the same answer from scratch every time.
4. Custom Keyboard Shortcuts. Keyboard shortcuts make it faster to process email. Although there are shortcuts already available in Gmail after you enable them, custom shortcuts make them even more usable.
For example, creating a new mail message is possible by just clicking letter c but if you feel that another letter would be suitable for this action, you can define this with custom keyboard shortcuts.
To access custom keyboard shortcuts, go to Settings and then locate Keyboard Shortcuts on the horizontal navigation bar (on the right).
5. Message Sneak Peak & Preview Pane. I decided to combine these two features in this chapter because they both help you to quickly and easily view your messages. However, there is a notable difference in their behaviours.
Message Sneak Peak allows you to preview an email by right-clicking the subject line. This displays a new window, which shows the contents of that email message.
Preview Pane makes Gmail work in the same way as Microsoft Outlook. You can decide whether you want to split the screen vertically or horizontally to view your message. Based on your selection, your message is shown either on the right side (vertical align) or beneath the message (horizontal align):

If you enable both of the features (Message Sneak Peak & Preview Pane), the Message Sneak Peak functionality will only work if you have chosen the No Split option.
6. Quick Links is yet another feature of Gmail that makes accessing it easier and quicker. Once you have enabled this feature, you can access it by clicking the three dots at the bottom of the screen (on the left-hand side):
The Quick Links menu will then appear on the left side of the page navigation under Circles and Labels. All you have to do next is to navigate to the page on Gmail that you want to link to on your Quick Links menu and then click the Add Quick Link text. This adds a link to that page on your Quick Links navigation list.
For instance, one of my Quick Links points to my Labels page. This is quicker and easier than opening an individual message first to access my Labels.
7. Sender Time Zone. This functionality helps me figure out the time zones of the person who sends me an email message. This comes in very handy when I'm trying to figure out the interview times with other people. It's essential to know the time zone so that we can organise the right time for both of us.
To find time zone information, click the down arrow after the field marked to: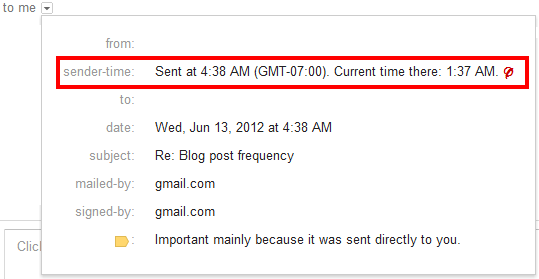 Gmail then uses the sending time and the fact that most of the people are awake between 9am and 6pm to determine whether the sender is awake or not (indicated by the red icon after the time).
Conclusion
So, there you have it – a bunch of Gmail features that will make your life much easier. There are many other fancy features on Gmail Labs.
Go ahead and test them – you might find some new favourites that help you with your Gmail productivity.
Over to you: share your favourite Gmail Labs extensions and why you like to use them.
Image Source :Flicker/zzpza.