Communication is a complex thing and it gets even more complicated when we message text. This is why, we use a number of punctuation marks, icons, Emojis and stuff to be able to visually support the messages while communicating online.
With the rise of smartphones thousands of apps, platforms, and tools popped out in the horizon, that aim to offer more than just a text communication. There are separate apps for stickers, emojis, themes for just any conversation you might have, which help you express mood, feelings, tone, and attitude. One such app is Sticker Market, an all-in one keyboard app for stickers, templates, GIFS and face emojis. It's a revolutionary keyboard that has all of your favorite sticker sets, GIFs and faces emojis right at your hand which you can use on all top messaging apps and platforms. And you don't even have to switch keyboards or apps. So, without further ado, let's see what's in the app and how it actually works.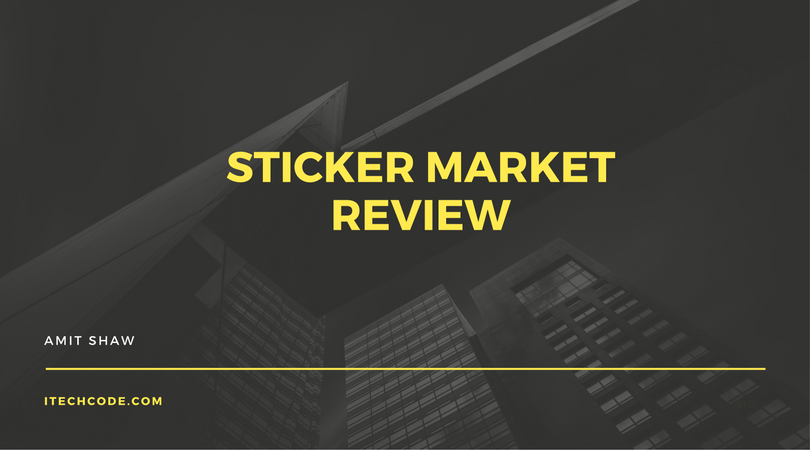 Installation and Setup
The app is developed for both IOS and Android devices and can be downloaded from Apple Store and from the Google store respectively.Once you have it downloaded you'll have to register using either your Facebook and Google accounts or your email. The app setup is a pretty simple process as it comes with a keyboard setup tutorial that shows some simple steps to activate the keyboard.

Menu

The app has an organized menu which makes it easy to access the menu sections. By tapping the menu icon at the upper left corner, you'll be able to browse the stickers, keyboard, sticker cam and the stuff in your cloud. Also, there is a setting icon at the lower right corner that will take you to your account and keyboard settings.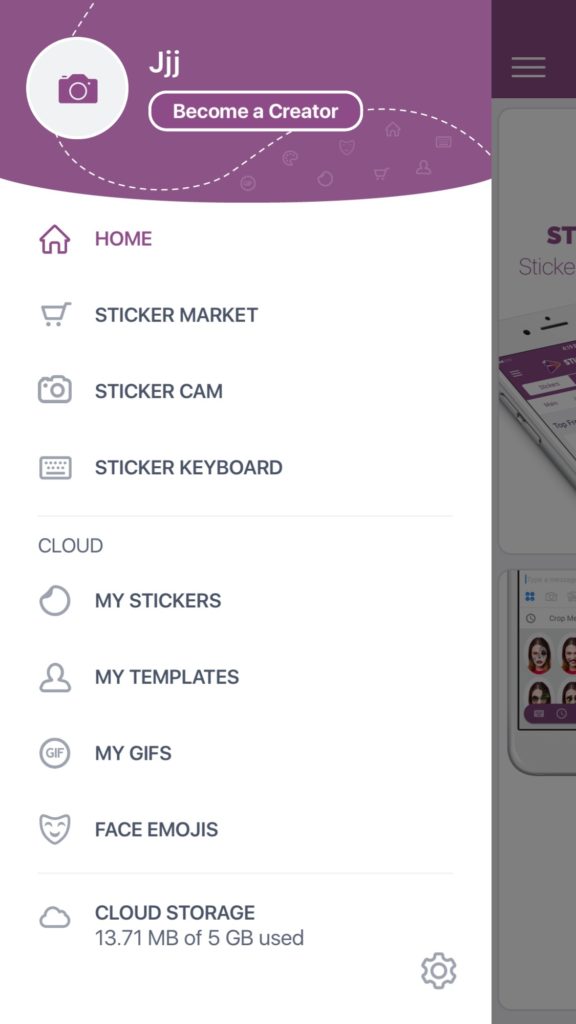 Sticker Market
This is actually the section where you'll find and be able to download the sticker sets, templates, and GIFs.The best part of it is that the stickers are categorized and are easy to browse by swiping them left and right. This section is also searchable, making it easy to find sticker sets by typing keywords in the search box.You can set different search filters to find stickers by preferred creator type, pricing, sorting, and animation.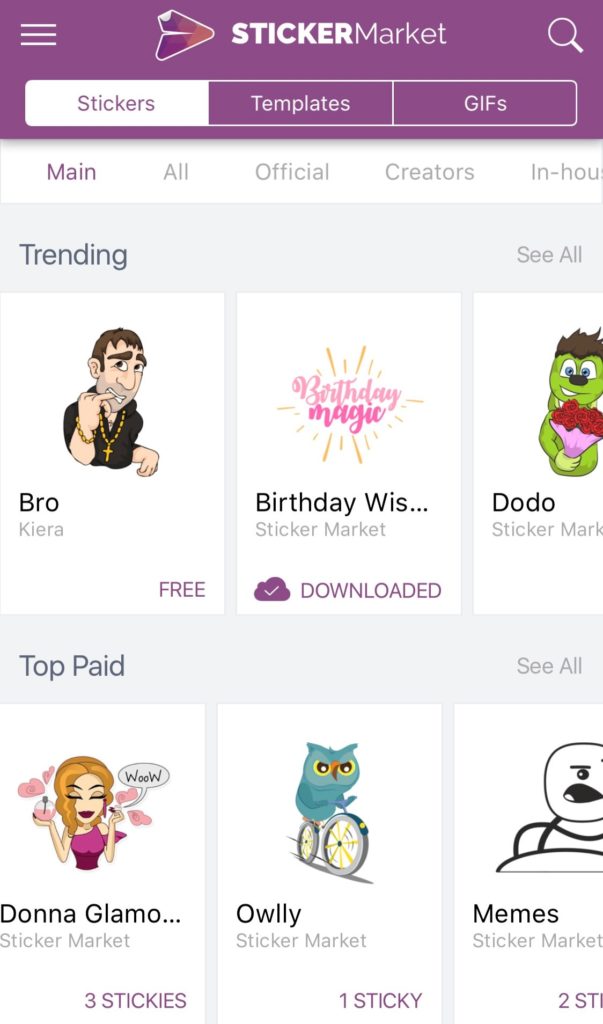 There is a huge GIF section in the app, where you'll find millions of trending GIFs for literally every conversation. You can browse the GIFs either by categories or just by selecting the trending tab, where you'll find thousands of most widely used GIFs. There are lots of categories included, such as actions, memes, celebrities, cartoons, reactions, and much more, that you can browse in list or thumbnail views.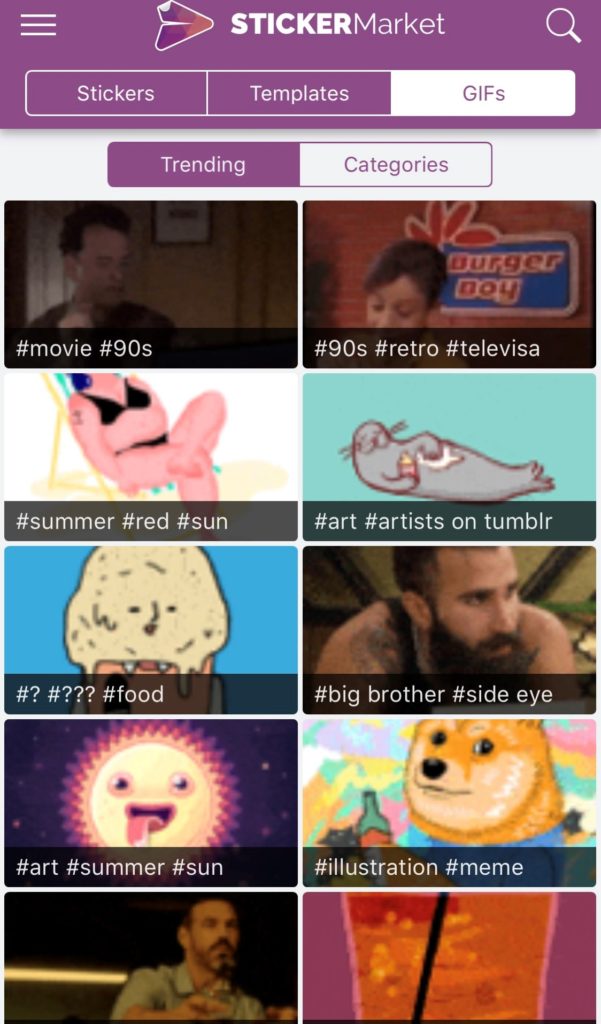 One of the best things about the app is that you can also add your own sticker sets to the app and have them used across different messaging platforms.
Sticker Cam

With sticker cam, you can take pictures and apply various funny templates and masks to your photos. After you take a picture the app generates face emojis, where you can select the templates and masks you want to apply to your picture.Another great feature of the app is that you can crop certain parts of any picture and save them as your own face emoji, which you can later use in your messages. All your custom-made emojis are saved under the face emojis section in the menu.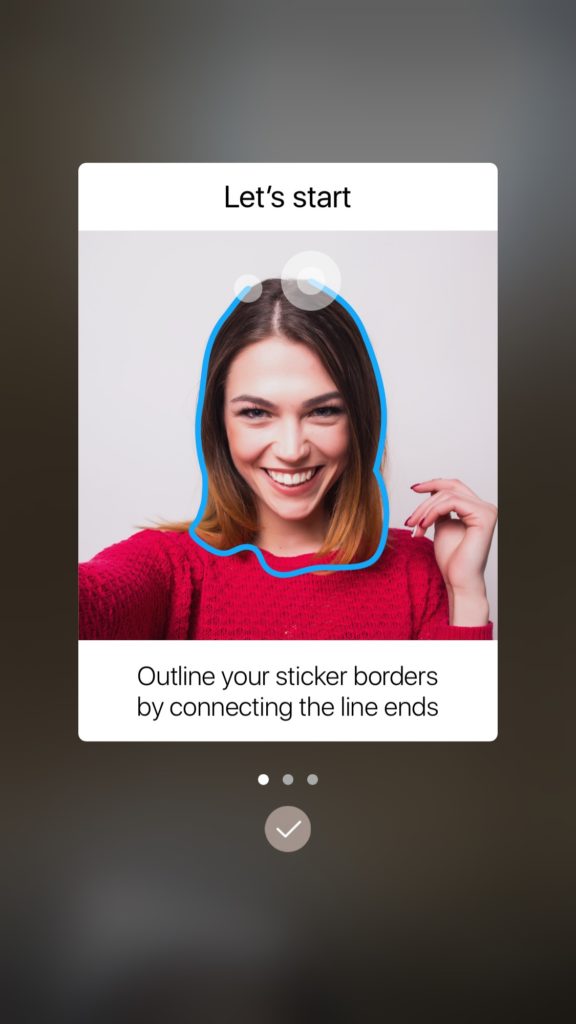 Sticker Keyboard
The app comes with a fast and intuitive keyboard through which you actually send the sticker sets and GIFs. To start using the Sticker Keyboard just select it from the keyboard options you have on your phone, and you'll be good to go. To browse the downloaded stickers tap the sticker market icon on your keyboard and you'll get access to all the fun.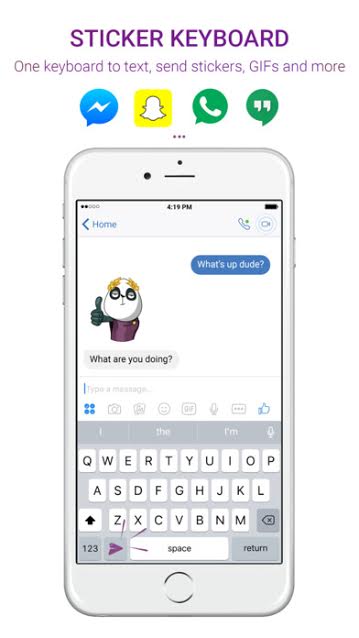 The keyboard supports 8 languages, including Russian, French, German, Spanish, and comes with auto correction and word prediction. There are many settings you can customize about the keyboard, and two light and dark keyboard themes to choose from.
Usability
The app is pretty easy to use and has a straightforward menu. The keyboard setup tutorial will help you to activate the keyboard in few simple steps, and get to use the stickers and GIFs in your conversations. The best thing about it is that you don't need to switch between apps or keyboards, and there are no complicated settings to adjust. Just get the app for your smartphone and bring a lot of fun to your conversations.