Asus FX502VM happens to be one of the best gaming laptops and at less than 1000 dollars you can jolly well call it a bargain buy as well. It is easily a deserving candidate for the title of best gaming laptop under 1000 2017. It comes with an NVIDIA GTX 1060 graphics card – something that is surely going to delight the gamers out there. The beauty of NVIDIA GTX 1060 is that it can perform without any flaws whatsoever no matter what ultra settings you are operating for your machine. In fact, in all gaming laptops under 1500 dollars this graphics card is used almost as a norm. In fact, the next best graphics card that you are going to get in this range is NVIDIA GTX 1050 Ti and 1060 is at least 61 per cent stronger than this one.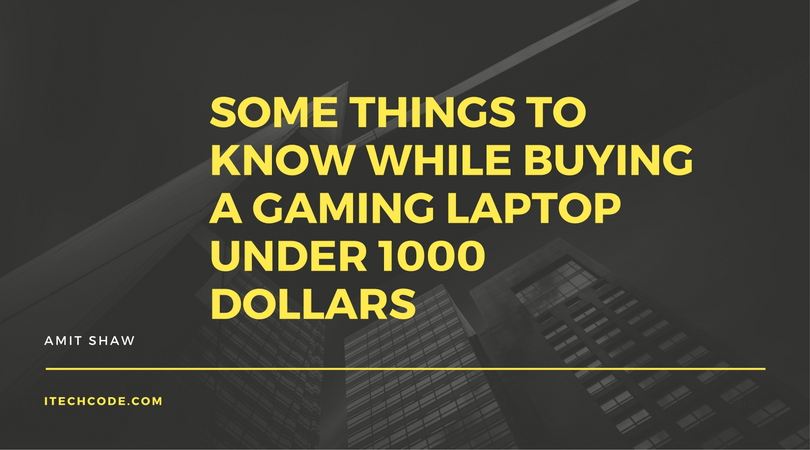 Why it is a no-brainer
The graphics card alone should be a good enough reason for you to buy this particular laptop. But there are some other facilities of this laptop as well that can help you consolidate your decision to buy this particular machine. The laptop comes with great build quality. It is quite thin and therefore light as well. This means that it is highly portable and you can just about take it anywhere with you for this particular reason. At the same time, this also implies that it can get heated up quite quickly as well. It comes with an Intel Core i5-6300HQ processor that unfortunately is not as powerful as some of the other top processors in the market.
Some issues to be considered
In spite of all this, the processor does come with a CPU (central processing unit) Mark score of 6017. This implies that you can play all your favorite games over here but at the same time you also need to take the claim that it is ready for VR (virtual reality) with a pinch of salt. Since the processor is quite weak it might make it quite hard for your laptop to run VR games. You do have a 16 GB RAM along with a hard disk of 1 TB with this machine though.
The good areas
The RAM is quite fast to say the very least and the hard drive can be considered a nice addition as well. However, this machine does not come with an SSD (solid state drive) unlike some of the other laptops in this price category. It is only when you have an SSD that functions such as loading and running of games can be performed without any issue whatsoever. You can always buy one such device and include it in this laptop. But would it not be nice if the machine already had it within? At the end, it can be said that the hardware of this device but for the sheer graphic pleasure it is an unmatched experience.
Some other choices in this regard
Well, if you are not convinced by what you have read so far you might as well look at some other great options that you have in this range:
Acer Aspire VX5-591G – the second best name in this category
Lenovo Legion Y520 – gaming power that you would not expect
MSI GL62M 7RE-623 – the best laptop under 1000 dollars by MSI
Gigabyte Sabre 15G-KB3 – best gaming notebook with NVIDIA GTX 1050
Dell Inspiron i5577 – the best SSD
Dell Inspiron i7559-3762GRY – the best ultra HD (high definition) resolution under 1000 dollars
You can be sure that if you choose any laptop from the list that has been provided here you will never go wrong, no matter what your choices or preferences are. As you can see quite clearly there is something for everything out here.