So you listen to your favorite music on your iPhone or IPod but you are not satisfied with the music experience?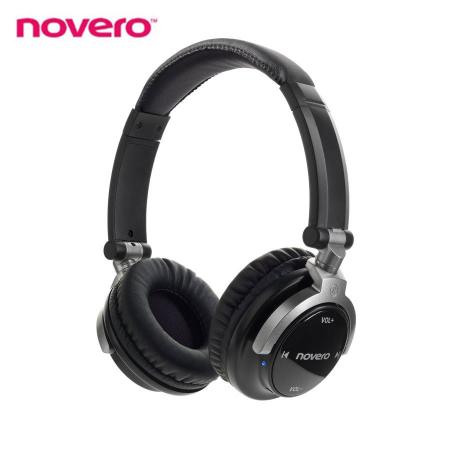 Music is something which soothens your mood and increases your productivity, now when you are not getting good music experience then it's not the fault of the song or the singer. The Problem is probably with your headphones, they cannot match up to the quality of the song.
If you are in a Mood to buy new headphones then wait a minute more, in this post I am going to talk about one such amazing device which will change your listening experience forever.
The device I am going to review today is the Novero Rockdale Bluetooth stereo headphones, so let us have a look at the features it has to offer.
Bluetooth- These headphones come with Bluetooth 2.1 + EDR, class 2 technology. Means, you won't be facing problems in pairing or any other type of connectivity problem. If you check the list of supported devise then I am sure you will be amazed to see that long list devices.
Multi-Point Technology- You can connect these headphones with two devices. Now you can take your calls from one device while listening to your favorite song from another device.
Integrated Microphone- It comes with an integrated microphone which allows hands free calling, now you don't need to take out your phone every time someone calls you in between.
DSP noise reduction technology- This minifies all the sound coming from the outside so you can focus only on that which is being played on your device. So as a result gives extreme sound clarity and the DSP kill the echo caused in hands free calling.
On-ear controls- This is a really nice feature because you can easily control all the functions using the controls given on your ears.  Want to pause the song? Just take one of your hands to your ear and press the pause button.
Now when we have talked about features let us talk about Design, as the looks of a headphone matter a lot.
The design of this headphone is quite impressive, one thing is sue if you put them on and walk on the road, more people will look at your headphones than you.
Another concern that people have is, the on ear control will make the headphones look bad. No! The on-ear controls are placed in such a way that the looks of this headphone are not affected.
its flexible aesthetic make it quite compact and easy to carry, so it becomes an ideal fit for the people who spend most of their time in planes and subways.
So before coming to the verdict let us again see the technical specifications of this device.
Technical Specifications:
Bluetooth stereo headset with microphone
Bluetooth 2.1 + EDR class 2
Profiles: HFP1.5, HSP1.1, A2DP1.0 and AVRCP1.0
Sensitivity: 105dB (SPL/1mW, 1 KHz at 1cm)
Frequency range: 20 Hz – 20 kHz
Integrated DSP for echo cancellation and
Noise reduction
Play time: 14h
Stand-by time: 280h
Connector: Micro USB
Weight: 80 g
So looking at all these features I find this device a good buy, also looking at the price and the sound quality it gives you surely this one deserves a 4.5 out of 5 rating from me.
So if you want Novero Bluetooth stereo Headphones for yourself then check out MobileFun, get it delivered to your place.